Lab corona treaters are essential for material verification and research and development purposes. However, not all laboratory corona treaters are created equal. Some of the disadvantages of various lab corona treaters on the market include the lack of control of line speed and precise treatment levels for documentation. Many lab corona treaters on the market do not take human error into consideration, which can result in inconsistent and immeasurable treatment levels.
The Importance of Precise Treatment Measurements
Without control of line speed, it becomes challenging to maintain uniformity in the corona treatment process, which can lead to poor adhesion and other issues. Additionally, the lack of precise treatment levels makes it difficult to measure the effectiveness of the corona treatment, which can be detrimental for research and development purposes.
At QC Electronics, we understand the importance of accurate and consistent corona treatment, which is why we offer laboratory corona treaters with advanced technology and automated features. Our lab corona treaters come equipped with precise treatment levels and line speed control, allowing for reliable and measurable treatment results. Additionally, our laboratory corona treaters include automatic gap adjustment and intuitive software for optimal ease of use.
Process Verification with Lab Corona Treaters
In addition to precise treatment capabilities, process verification is also a crucial aspect of lab corona treaters. At QC Electronics, we understand the importance of verifying and documenting the treatment process for quality control and assurance purposes. Our DocuDyne lab corona treater allows for precise treatment level documentation down to the line speed and allows users to calculate the watt density required for successful treatment. This is why some of the biggest players in the industry rely on our DocuDyne lab corona treater for their research and development needs. With its ability to verify the treatment process, our lab corona treater is quickly becoming the go-to solution for companies looking to improve their product development and quality control.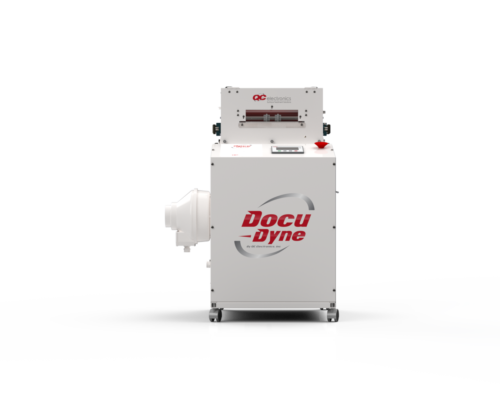 Free Samples
We also offer free samples for material verification, allowing our clients to test the effectiveness of our corona treatment equipment before making any purchasing decisions. Contact us today to learn more about our laboratory corona treaters and how they can benefit your research and development projects.
Follow us on LinkedIn to stay up to date with QC Electronics new products and announcements.